Before we get to this week's episode, I have a quick announcement.
I'm putting together a new coaching group of B2B writers and copywriters. We're going to focus on getting your business off the ground quickly and landing your first paying client.
One of my recent coaching clients emailed me last week and said that working with me is the equivalent of "cutting in line" to get to year 2 or 3 of freelancing … without having to wait as long … and without making all the mistakes along the way.
I thought that was a great way to put that. 😉
If you'd like to work with me to get that specific result, email me at ed at b2blauncher dot com … put the word "LAUNCH" in the subject line … and I'll reply with all the details.
Now for this week's show…
One of the most confusing and frustrating aspects of launching your freelance writing or copywriting business is looking for clients.
Our employer-centric economy has conditioned us to have the work come to us. But when you go solo, you have to become a hunter/gatherer. Writing skill is not enough. You have to go find the work. You have to market yourself continually.
Good news: You do NOT have to have a background in sales, marketing or business in general to do this well. But you do need a plan and a heavy dose of discipline and execution.
Today I'm going to share the six ways I teach my coaching clients to prospect for clients when they're starting out.
#1: Tap Your Network
Tapping your network is by far the most powerful (and underutilized!) method of drumming up new business.
The people in your network already know, like and trust you. And when you lack a track record, impressive samples and confidence, it's your relationships that will matter most. Because relationship trumps all those other factors that will be more important to prospects who don't know you.
I recently published an article with four great stories from writers who built their freelance business by tapping their networks. I encourage you to check it out.
Why don't more new writers do this? Partly because we've been conditioned to believe that it's impolite or a bad idea to do business with friends and family. We may also have a negative association with selling to our friends. And we often lack the self-confidence to ask.
But you have to remind yourself that you have a skill many people value. Just because it comes easier to you doesn't mean it's not valuable to others.
Of course, don't start with people who are clueless about business or marketing. Start with higher-probability contacts. Prioritize your contact list based on whom you think is most likely to hire or refer you.
In my experience, when you're starting out, 30 to 50 percent of the time your first client will come from your network—either directly … or referred by someone you know.
If you're new, there's a good chance that you have a distorted view of how your business is going to get off the ground and grow (I know I did!). We have visions of working with well-known clients (which creates anxiety!) and working our way up successfully.
But the reality is very different. Your first few clients are not going to be impressive. It won't feel like you thought it would. And you're going to wonder if this is the right path to the life you wanted.
#2: Send 100 Warm Emails in Batches of 5 or 10
Want to get going as quickly as possible? Don't wait for prospects to find you. Instead, go out and find them!
Start prospecting immediately. And make it your full-time job until you land a client!
The best way to do this is by sending out warm emails. Warm emails are short, relevant and personalized prospecting emails that feel like they were written specifically for one prospect—because that's exactly what you're doing.
Here's an effective warm email template:
SUBJECT:  Loved your <prospect's initiative or purpose>
Hi <prospect name>,
I came across your website this week and noticed your <prospect's initiative or purpose>. I'm very familiar with <topic or area of attribute> because <how it ties into your own background or experience>.
I'm writing because I'm a <your title/profession> who works with <type of organizations you work with> to help them with <your target market or types of projects you work on>.
Here are some samples of my work: <URL> [Alternatively, you could point to your Home page or About page. Or you could point out something else that would add credibility to your message.]
I'm not sure if you occasionally work with outside <your title/profession>. But if you do, I'd love to know what it would take to be considered for a future project.
Should we connect?
Regards,
Don Fielding
Here's an example:
SUBJECT:  Love what you're doing with Sparx
Hi Belinda,
I've been following the growth of your Sparx online learning initiative. I'm very impressed with what you're doing here and the impact it's having on high school students.
I'm writing because I specialize in writing marketing content for training and online learning companies. I use my experience as a 22-year educator and as an avid proponent of online learning to deliver persuasive writing that hits the mark.
Here are some samples of my work: [URL]
I'm not sure how you're handling the writing of your marketing content, but I'd love to know what it would take to be considered for some of these needs.
Should we connect?
Don Fielding
Warm email prospecting is a proven strategy, even when you're new. But just like with any direct-response strategy, you have to send out a lot of emails in order to generate some positive activity.
That's why I strongly recommend that you focus on sending out 100 emails. Because that number emphasizes that fact that it's going to take a lot of "at bats" to get a hit. However, to keep from getting overwhelmed, send them out in small batches of 5 or 10 at a time.
I've had coaching clients send out 150 – 200 (or more) warm emails before they finally landed their first client. Sometimes it takes this much. You should be ready to keep at it until you succeed.
#3: Follow Up with Non-respondents
The first thing you'll want to do is follow up with every prospect who didn't reply to your warm email. Do this about two weeks after sending your original warm email. Here's the best way to do this:
Go to your "Sent" folder in your email application
Find the warm email you sent your prospect
Click "Forward"
Add some new copy about another core differentiator
Ask again if he/she would like to connect
Hit "Send"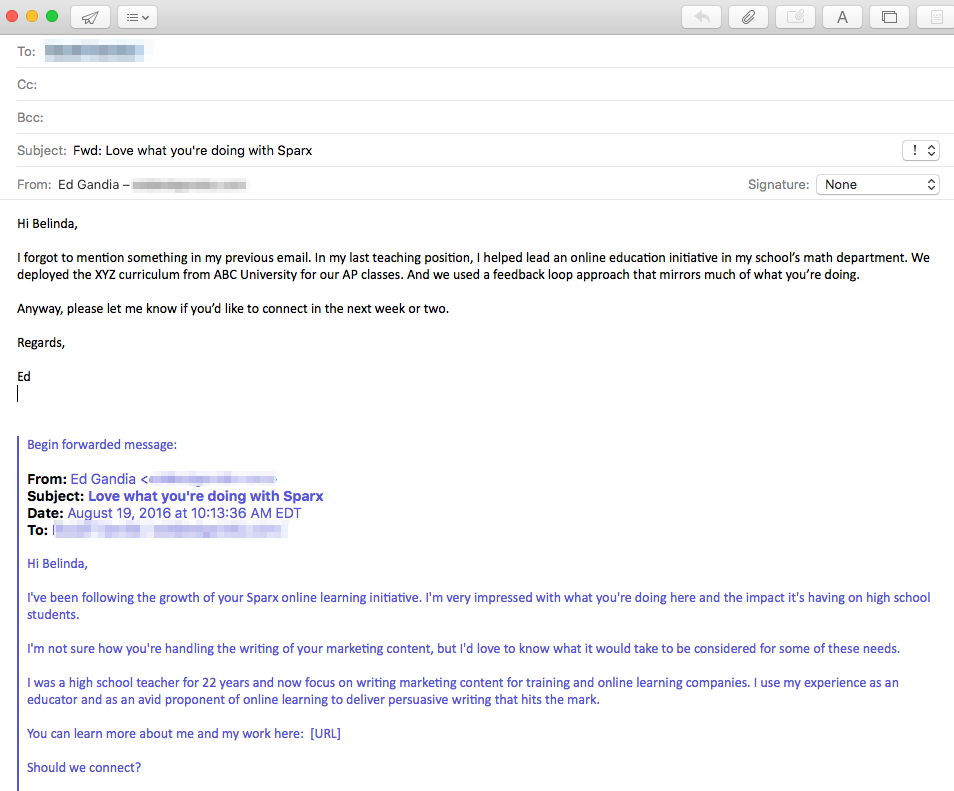 The idea with this follow-up is to see if you can spark some interest on a better day… and to do it in a more professional way (as opposed to the traditional "Did you get my email?" approach).
If you don't get a response, move on. No need to do anything else with that prospect. We're looking for low-hanging fruit.
#4: Nurture Not-Yet-Ready Prospects
As I mentioned earlier, most prospects simply will NOT respond. That's just the nature of prospecting and direct response. Don't get discouraged. Everyone struggles to find prospects who are ready and willing to engage.
And that's not just in the world of creative services. It's also true in virtually every sales and marketing situation, both in B2B and B2C markets.
Here's what I've found:
On average, only about 10 out of 100 qualified prospects are actively searching right now for someone who provides your services.
What about the other 90? Forty will probably have a need for your services sometime in the next three to 18 months. These are your not-yet-ready (NYR) prospects.
The key is to stay in touch with those who said "No" because they didn't have a need now … but acknowledged (even mildly) that they may at some point in the future.
I call this process "lead nurturing." And once I saw the impact this kind of follow-up had on my income, it quickly became a critical part of my marketing and sales process as a freelancer.
So why the delay? Why do so many prospects take this long to make decisions? There are two key factors at play here. Landing a new client requires both the right timing and a certain level of trust.
The timing for hiring you needs to be right. You can't create urgency inside the prospect's organization. But you can stay in touch until they're ready.
What Should You Send?
Useful and relevant articles and resources
Helpful reports, stats, information and tools
News stories or general announcements
Handwritten cards and other creative items
What should you say in your nurturing email, letter or card? Keep it short and simple:
Hi John,
Ed Gandia here. I'm the medical devices copywriter who contacted you back in December.
I'm writing because I came across this article recently and I thought you'd find it interesting:
[URL]
Hope you're doing well.
Ed
#5: Reach Out to Agencies That Focus on Your Target Market
As you start working on your 100 warm emails, you may want to consider sending some of these warm emails to marketing agencies and marketing firms.
Marketing firms and agencies (I use these terms interchangeably) already have clients and projects. They're already connected to dozens of clients and hot prospects. And much of their work involves copywriting. So when you land one, it's like getting ready-made work (just add water!).
In most cases they'll either have a go-to freelance writer or copywriter, or they'll have an in-house staff writer. But that shouldn't stop you, because you never know what their needs are or how they'll change from one month to the next.
When agencies hire freelancers, they're looking to fill knowledge or expertise gaps within their firms.
Whatever you do, avoid being just a hired hand or a warm body. Do NOT position yourself as someone who can help them with their overflow work. That approach doesn't differentiate you. It just makes you sound like a helper, not a professional with valuable experience and insights.
Leverage your background, career experience and/or core differentiators! That's the key to getting work from an agency when you're a new freelancer.
When searching for possible agencies to target, find those that seem to focus on your target market.
A simple Google search is a good place to start. For example:
Medical devices marketing firm
Educational technology marketing firm
Generally speaking, you can't go wrong sending your warm email to the creative director. That's always a safe bet.
#6: Reach Out to Graphic Designers That Focus on Your Target Market
Just like many marketing agencies need to write copy as part of the work they do for clients, some designers also like to offer their clients a service package that includes both design and copy.
If you can become their go-to writer, some of these designers can provide you with a fairly steady stream of work. Not enough to make them your only client, but enough to add some diversity to your prospecting efforts and income stream.
Local networking events are a great place to meet designers. Of course, you can also treat them as prospects and approach some of them with warm emails.
If this is something you're interested in pursuing, Peter Bowerman has written the definitive field guide to how to do this right. It's a meaty PDF guide titled Profitable By Design! Tapping the Writer/Designer Partnership Goldmine (that's an affiliate link).
Let's Get to Work!
So there you have them. Six proven and effective ways to find and land clients quickly when you're starting out as a freelance writer or copywriter.
Which one will you start with? Whatever you pick, get started today. The sooner you do, the sooner you'll have paying assignments and great momentum.
By the way … whenever you're ready, here are 4 ways I can help you grow your freelance business:
1. Grab a free copy of my training class for writers who are new to freelancing.
It's called "The 3 Magic Levers: How to Get Your Writing Business Off the Ground and Land Your First Paying Client." — Click Here
2. Download a free copy of my book for ESTABLISHED writers/copywriters.
You'll discover how to quickly and predictably reawaken dead leads, generate new client opportunities and convert not-yet-ready prospects into freelance writing clients. — Click Here
3. Join our "Get Better Clients Academy"
You'll get a personalized action plan based on where you are today in your business. Plus all the tools, scripts, checklists, cheat sheets and templates you'll need to escape feast-or-famine … grow your income … and land clients who love and respect you. — Click Here
4. Get your website DONE!
If you've been struggling to get your website done … or if you're not happy with what you've got today… let my team and I build you a beautiful website for your writing business. We'll do all the hard work! Email me at [email protected] … put "WEBSITE" in the subject line … and I'll reply with the details.