Protect and Grow
Your Writing Business
During Uncertain Times
As Seen On







Hi, I'm Ed.
I'm a business-building coach and strategist for ambitious business writers and copywriters.
I study happy and successful freelancers. And I deconstruct the habits, strategies and techniques that enable them to protect and grow their writing business during uncertain times.
I add proven ideas from my own successful freelance business. And I share all this in my popular podcast and weekly email digest.
If you're a good writer, freelance success is totally achievable — even in the middle of a crisis and economic turmoil.
But it won't happen on its own. You need a good amount of grit. Plus smart strategies, proven processes, good habits and consistent execution.
That's what I can teach you, step by step.
Ready? Download a Copy of My New Book…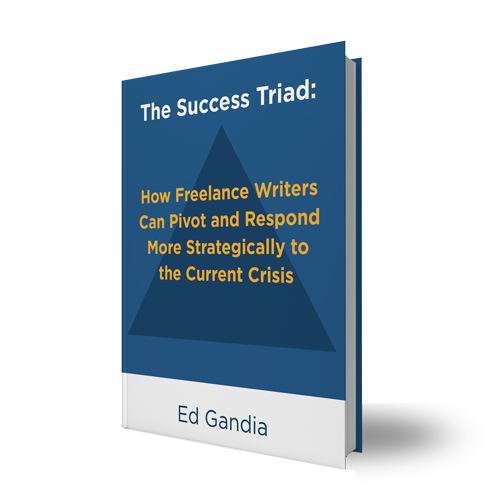 Grab a FREE Copy of My New Book!
The Success Triad: How Freelance Writers Can Pivot and Respond More Strategically to the Current Crisis
The world is changing fast. Anxiety levels are running high.
And you might be wondering how this pandemic will impact your writing business.
How should you react? How can you adapt and pivot? Are there opportunities you're not seeing?