Creating content for marketing your business takes effort. You have to figure out what your target audience might be interested in, come up with a topic, do some research, write, edit and proof.
So when you do go to the trouble of creating content, you want to make it stretch as far as reasonably possible—without degenerating into spam.
Essentially, you want to write once and publish multiple times.
As a business coach, I create and share a lot of content as a way of promoting my services. And over the past months and years, my team and I have worked hard to develop a process for getting the most out of every piece of content I create.
Today, I thought I would share with you how we do this—and how you can do the same.
To illustrate the process my team and I follow, I'll use an article we published to this page a few months ago as an example: "7 Questions to Ask Yourself Before You Quit Your Day Job."
1. Write the article
The first step, of course, is to create the content. You might have a topic in mind that you could turn into an article. Or you might have something that you published years ago that's basically evergreen content, which means you can update or expand it and end up with a new piece of content.
And, in fact, that is what I did with this article. The bones of the article are from a piece of content that I published back in 2013 on a different platform. I felt that the content is still relevant today, so I repurposed the idea to create something new.
2. Publish it in your newsletter
For many of you, the first point of content distribution will be your email newsletter. This isn't something that I've been doing (I deliver my content directly on my site, although I use email to announce it). But I include it here because it's often the best place to start.
3. Post to your blog
Then the next step, for many of you, will be to publish the same article to your blog.
And that is what we did with this article.
Also, it's not unusual to reverse this process. If you prefer, you can publish to your blog first and then put some of your most recent blog articles in your newsletter.
4. Create pull-out quotes
Next, my team will scan the article for quotes, statistics and questions that they can pull out and use for promotional purposes.
For example, in one section of this article, I talk about finding time to work on your business. I suggest that maybe you could get up early on Saturday mornings to get some work in. So, we pulled out the following quote:
"A Saturday morning sacrifice could be the key to living your freelance dream."
In addition, we also pulled out:
"The safest path to freelance success? Become a chicken entrepreneur."
"How will you know if you're ready to quit your day job? By deciding ahead of time what 'being ready' looks like."
5. Create social media posts
Next, we take these quotes and pair them with stock images to create custom images we can use on our social media platforms.
With all the pieces in place, we'll then use MeetEdgar to schedule and post them to our social media platforms.
Here's an example of what I posted to my personal Facebook page.
Here's what we used on my business Facebook page.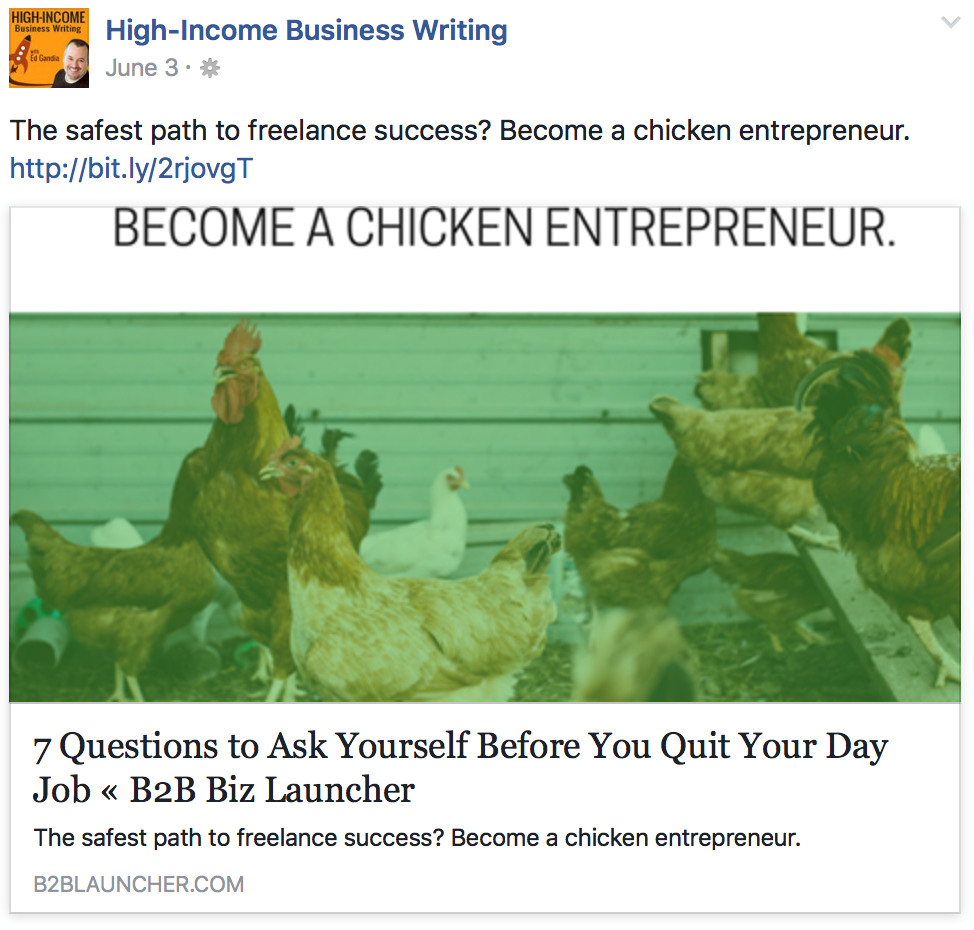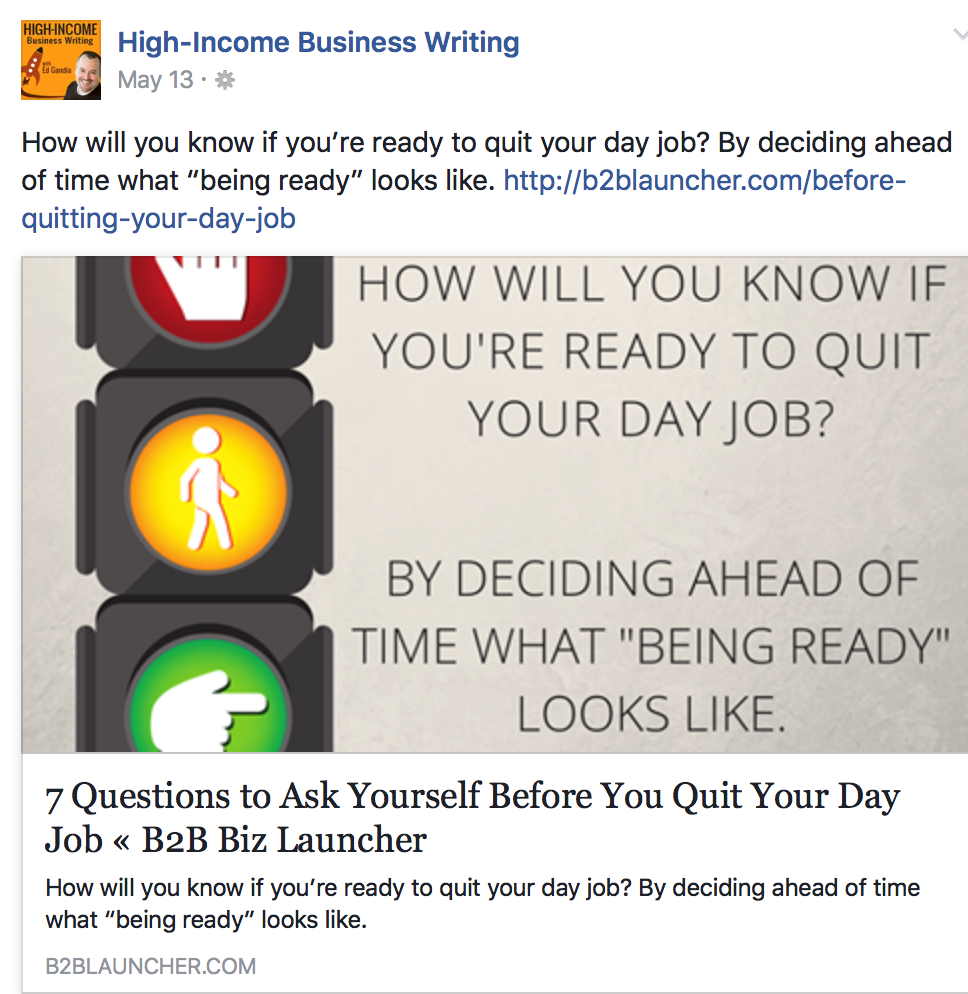 We also create a custom image for the article title, which is what we shared on Twitter.
6. Make a YouTube video
Once we've shared the content multiple times on my social media platforms, we then create a video of the content.
To do this, I read the article aloud and record the audio. Then, one of my team members will create slides to accompany the audio. We combine the audio and the slides to create a video—which is essentially a "live" PowerPoint presentation of the content.
When the video is ready, my team uploads it to my YouTube channel two weeks after the original article went live.
Besides YouTube, we're starting to upload these videos to Facebook and (soon) to LinkedIn.
7. Write a LinkedIn article
LinkedIn allows users to share entire articles via LinkedIn Publisher. And that's another place I share my content.
About four weeks after posting the article to my own site, a team member will upload the entire article to LinkedIn Publisher. (We wait four weeks before publishing it on LinkedIn to give Google time to index the article on my site.)
You can see a list of my articles on LinkedIn under "See more articles."
And you can drill down to see the article itself.
8. Use Medium
Before we're done, we also post the article to Medium.com after a four-week delay (although this is still a work in progress!).
Your Goal Is to Foster Relationships
I hope this gives you ideas about just some of the ways you can share, distribute and repurpose your content for different platforms to get the most bang for your writing buck.
Again, the idea is to write once and publish multiple times.
Publishing and sharing to different platforms is a valid way to reach different audiences—because not everyone has the same go-to platform (e.g., Twitter versus Facebook) or the same preferred mode of digesting content (e.g., written content versus video). And not everyone is paying close attention to any one medium at any given time.
Worried that Google will penalize you for republishing your content in multiple places? There's no need to worry. SEO experts agree that you would have to do this dozens and dozens of times with one piece of content before it raises red flags with Google.
But one word of caution: When you apply this approach to your own content, always remain respectful of your readers. Do NOT step over into spam territory.
Rather, your goal is to provide high-quality content that helps existing followers, attracts new followers, builds trust and fosters long-term relationships.